Welcome to Poised for Success!
Providing Online Instruction
in Canine Musical Freestyle
since 2012!
Now offering classes in
Canine Parkour
Scroll Down for all current
information!
Our Philosophy
I firmly believe that the ultimate goal of participation in dog sports, whether for serious competition or just for fun, should be to increase the overall quality of a dog's life and to build a mutual partnership of joy and trust between dog and handler.  Therefore, in all classes offered through Poised for Success, I strive to combine good quality skill building with patience and a sense of humor.  My hope is that every class will help you and your dog come to know and trust one another more deeply, and increase your enjoyment of working together through performance to music.
What's New?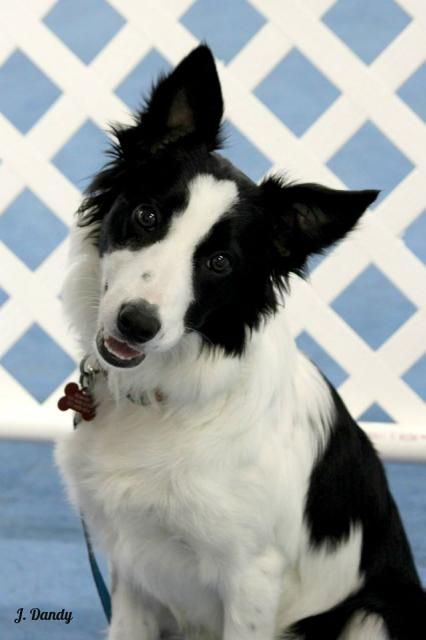 Early  Spring  Session Online Classes

Begin on Tuesday, March 5th

See below for details
Tessa posing on the "platform" we used for the "Trick on a Platform" exercise
Early Spring Classes
March 5, 2019 through April 30, 2019

Canine Parkour:  Experienced Teams
Parkour Coaching and
Handlers Choice Skills
This class is for teams who have either taken "Introduction to Parkour Skills, Fun, and Titling", or who have earned at least one Canine Parkour Title.

In this class, participants may choose to work on any and all Parkour skills!  Topics may include: 
   - Regular Interactions that were not covered in Intro class
     (Or, that were covered, but you are still working on!)
   - Advanced Interactions
   - Building enthusiasm/focus
   - Tips for performance in different locations
   - Working toward higher level titles
   - You pretty much name it!!
Students are welcome to share video for feedback throughout the class!
 
Canine Musical Freestyle:  All Levels

Heeling to Music Exercises
This class explores different and fun ways to practice the art of movement to music.
Six different movement configurations will be presented, with which a dog and handler team can build skill, confidence, joy, enthusiasm, movement duration, or any other performance criteria.
Teams may elect to work on precision of movement, enthusiasm while moving as a team, improvement of movement in a particular position, basic heelwork skills, mutual attention, or any personal goal that would benefit the team.
While the main focus of this class is heelwork, some other related skills, such as transitions, will be covered, as well.
This class is appropriate for dog and handler teams of all skill levels.  The configurations can be used to introduce heelwork skills, and they can be used to develop more advanced Freestyle performance skills.
Exercises can be practiced in large spaces or smaller spaces, indoors or outdoors, on leash or off leash.
  Early Spring Session Information
General Information
Class Dates:  March 5, 2019 - April 30, 2019

Tuition:  $30.00  ($35.00 for one handler/two dogs!)

Format:  Classes are offered through a Facebook Group format
            Full explanation of the Facebook Group format will be
            provided for anyone who has not used Groups for a class
            before.  The format is actually quite user friendly.
Payment of Tuition
For your convenience, tuition can be paid via PayPal to:


ksammie3@gmail.com
Or, you can email (ksammie3@gmail.com) for a PayPal invoice
Check drawn upon a US bank can be accepted via mail.  Please indicate, specifically, that you are paying by check.

Sorry, no credit card payments, except through PayPal
Registration
To register, please copy and paste the following into an email and send to:
ksammie3@gmail.com
Printable forms and mailing address for check payments available via email
Handler Name:
Name of Dog(s):
Breed of Dog(s):
Handler Address:
Handler Email:
Registration for:
________   Parkour Coaching and Handler's Choice

________   Introduction to Parkour Skills, Fun, and Titling

________   Heeling to Music Exercises

Contact Us

Questions?  Feedback?  Contact us at:

PFSFreestyle@gmail.com