Welcome to Poised for Success!
Providing Online Instruction
in Canine Musical Freestyle
since 2012!
Now offering classes in
Canine Parkour
Scroll Down for all current
information!
Our Philosophy
I firmly believe that the ultimate goal of participation in dog sports, whether for serious competition or just for fun, should be to increase the overall quality of a dog's life and to build a mutual partnership of joy and trust between dog and handler.  Therefore, in all classes offered through Poised for Success, I strive to combine good quality skill building with patience and a sense of humor.  My hope is that every class will help you and your dog come to know and trust one another more deeply, and increase your enjoyment of working together through performance to music.
What's New?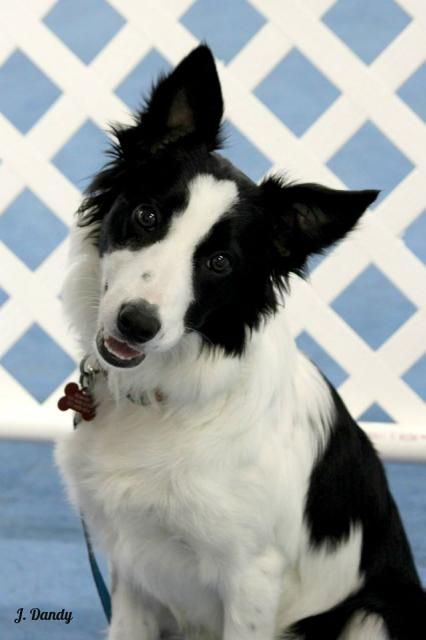 Winter  Session Online Classes

Begin on Tuesday, December 4th

See below for details
Tessa posing on the "platform" we used for the "Trick on a Platform" exercise
Small Business Saturday and Cyber
Monday Sale!

Take $5.00 off of tuition for any class if
you register by Monday, November 26!!
Winter Classes
December 4, 2018 through January 31st, 2019

Beginner Class

Introduction to Parkour
Skills, Fun, and Titling
Canine Parkour, which is loosely considered to be a form of the sport of Agility, is a somewhat new dog sport.  In Canine Parkour, the handler teaches the dog to carry out a series of Interactions, such as:  jumping, putting two or four paws on, going under, going between, walking across, going around, backing between or onto, and sending to, or around.  One the Interactions are taught, the dog and handler go out into the world and perform them using different objects in the environment.  Typically, one Interaction is performed at a time, but there are also opportunities for sequencing.

Canine Parkour is an excellent activity for confidence building, fostering teamwork between dog and handler, and physical fitness for both dog and handler.  Parkour is an appropriate activity for a young dog in training, for an older dog with limited mobility, and for dogs of every age and circumstance in between.
In this multi-level class, an introduction to the sport of Canine Parkour wil be provided for teams that are new, and more experienced teams will be encouraged to hone those skills, always with emphasis on greater enjoyment of the Parkour experience for both dog and handler.

For those who are interested in titling, the basics of preparing titling submissions will be discussed for the titling venue of your choice.
Enjoy the following video for more information!
 
All-Levels
Poised for Parkour!
Cultivating Focus, Engagmenent, and
Enthusiasm in the Canine Parkour Partner
Canine Parkour is unique among dog sports because we ask our dogs to perform trained behaviors in a context where they are more often free to simply "be dogs".  Because of this, dogs sometimes struggle to transition to an engaged, focused, and motivated mindset when we want them to perform Parkour Interactions.


In this class, we will explore techniques that you can work on with your dog to build focus, engagment, and enthusiasm that will carry over into different locations, environments, and situations.

We will discuss approaches that you can use with your dog, while creating Parkour entries out and about in the world, that will allow your dog to fully enjoy the adventure and exploration side of Parkour, while offering focus and engagement while performing an Interaction.

With winter upon many of us, this class is designed so that all of the training can be done indoors.  Instruction will be given for outdoor transition, but that can be saved for warmer weather.
Enjoy the following video for more information!
  Winter Session Information
General Information
Class Dates:  December 4, 2018 - January 31, 2019

Tuition:  $30.00  ($35.00 for one handler/two dogs!)

Format:  Classes are offered through a Facebook Group format
            Full explanation of the Facebook Group format will be
            provided for anyone who has not used Groups for a class
            before.  The format is actually quite user friendly.
Payment of Tuition
For your convenience, tuition can be paid via PayPal to:


ksammie3@gmail.com
Or, you can email (ksammie3@gmail.com) for a PayPal invoice
Check drawn upon a US bank can be accepted via mail.  Please indicate, specifically, that you are paying by check.

Sorry, no credit card payments, except through PayPal
Registration
To register, please copy and paste the following into an email and send to:
ksammie3@gmail.com
Printable forms and mailing address for check payments available via email
Handler Name:
Name of Dog(s):
Breed of Dog(s):
Handler Address:
Handler Email:
Registration for:
________   Introduction to Parkour Skills, Fun, and Titling

________   Poised for Parkour

Contact Us

Questions?  Feedback?  Contact us at:

PFSFreestyle@gmail.com