Welcome to Poised for Success!
Providing Online Instruction
in Canine Musical Freestyle
since 2012!
Now offering classes in
Canine Parkour
Scroll Down for all current
information!
Our Philosophy
I firmly believe that the ultimate goal of participation in dog sports, whether for serious competition or just for fun, should be to increase the overall quality of a dog's life and to build a mutual partnership of joy and trust between dog and handler.  Therefore, in all classes offered through Poised for Success, I strive to combine good quality skill building with patience and a sense of humor.  My hope is that every class will help you and your dog come to know and trust one another more deeply, and increase your enjoyment of working together through performance to music.
What's New?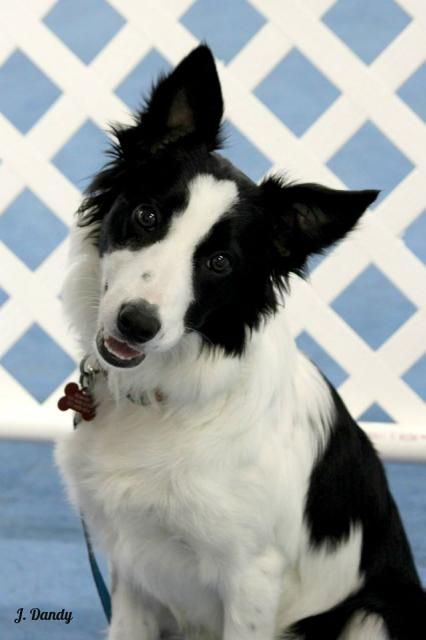 Winter Mini-Term!

December 1 - December 22

Tessa posing on the "platform" we used for the "Trick on a Platform" exercise
Parkour Sequencing

Prerequisite: Familiarity with at least 8 different Parkour Interactions,
                     such as:  Get On 2 Front Feet, Get On 4 Feet, Between,
                     Jump Clean, Jump Assisted, Go Around, Get Inside,
                     Go Under, Between Backwards, Figure 8, etc.
This three week class will provide an introduction to the concept of Parkour sequencing, in preparation for the offering of Premier Titles through All Dogs Parkour, and for Grand Champion track entries.
The class will cover:
Rules for sequences

Creating your own Interactions

Creating flow in sequences

Potential challenges in Parkour sequencing

Building motivation and fluency in sequences
This class is designed so you can complete the whole course indoors.  We will focus on using indoor items as EFs.  However, any students who have weather to work outside are welcome to do so.
Winter Mini Session Information
General Information
Class Dates:  December 1st - December 22nd

Tuition:  $15.00  ($20.00 for one handler/two dogs!)

Format:  Classes are offered through a Facebook Group format
            Full explanation of the Facebook Group format will be
            provided for anyone who has not used Groups for a class
            before.  The format is actually quite user friendly.
Payment of Tuition
For your convenience, tuition can be paid via PayPal to:


ksammie3@gmail.com
Or, you can email (ksammie3@gmail.com) for a PayPal invoice
Check drawn upon a US bank can be accepted via mail
Sorry, no credit card payments, except through PayPal
Registration
To register, please copy and paste the following into an email and send to:
ksammie3@gmail.com
Printable forms and mailing address for check payments available via email
Handler Name:
Name of Dog(s):
Breed of Dog(s):
Handler Address:
Handler Email:
Paypal Confirmation #:
(Or, indicate if paying by check)
Registration for:
________  Parkour Sequencing

Contact Us

Questions?  Feedback?  Contact us at:

PFSFreestyle@gmail.com